Tallahassee Lawn Care
Here At Green Fox Landscaping (the Tallahassee Lawn Care Professionals) we are most enthusiastic about handling all of your Tallahassee lawn care needs and desires. We garentee you'll be highly satisfied our lawn care services and expertize. We always provide our customers with a reasonable and fair price plus the knowledge essential for keeping lawns forishing year round. We spesialize in commercial and residential lawn care in Tallahassee. So if you need weekly landscaping lawn services or sod designs or installation we can make it happen for you, the way you like.  
Whether it is creating or maintaining your yards lawn care needs we are very particular about making sure that the lawns we install, restore and/or care-for are of the utmost condition with a healthy consistent green luster all year round. We find it fun and rewarding to bring forth Tallahassee friendly lawns and landscapes for our customers to enjoy.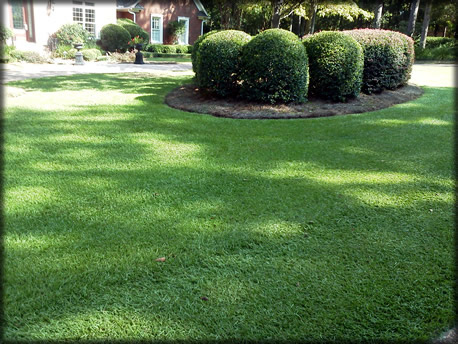 There are many aspects to caring for a lawn for example; Fertilizer application is typically only effective when you are sure to cover the entire lawn evenly. There are numerous methods for dispersing fertilizer such as a drop spreader, cyclone spreader but one of the most efficient ways to spread fertilizer is the use of air or drop spreader.  Nevertheless which ever type of spreader you use be certain that you cover the grass thoroughly and uniformly.

Another essential aspect to keeping a Tallahassee lawn looking great all year round is irrigation or watering methods as well as quantities of water dispersed specific to certain types of lawns. Different types of grass will vary with the amount of water necessary to sustain its health condition. For example many types of turf grass have stronger drought tolerances and can go longer periods without watering. Having a well irrigated Tallahassee lawn makes it more effective at being able to resist density from weeds and/or insects and provides the grass with the carbon necessary for its growth and endurance. Also efficiently watered lawns are more capable of surviving ecological pressures such as wear from hotter days, soil issues and nutrients insufficiencies. Not only is water needed to be present for lawns to germinate seed, but it also helps the soil solution circulate the various minerals and nutrients to the grass for absorption into lawns roots.
Remember that it is also very important the amount of water you feed your lawn, because it is often the case that with automatic sprinkler systems people can overwater their grass, which in turn is sometimes the single cause of a Tallahassee lawns demise.
We can help you with every facet of Tallahassee lawn care because we have experience and knowledge on the various species of grass in North Florida and the Tallahassee area and want to provide you with a great looking lawn to last a life time therefore contact us and we can provide you with a free estimate on all your lawn care needs.
Our goal at Green Fox Landscaping is to provide professional and affordable landscape maintenance service to both commercial and residential customers. We specialize in all facets of landscape- maintenance from average size yards to the largest most elite estates, properties and commercial accounts.
Green Fox is located in Tallahassee Fl. and is ready to serve all of your landscaping and yard maintenance needs. We are licensed in Tallahassee.
Call us today at 850-210-2047 to get a FREE ESTIMATE or fill out the form below.