Landscape Lighting
With well-designed stylish lighting placed nicely throughout your landscape, you can take pleasure in peaceful evenings to enjoy your creative landscape stonework, walkways, trees, flowers, vegetation etc… all year round. Also Safety is an essential aspect and benefits for outdoor landscape lighting. With landscape lighting uniformly spaced throughout your yard the walkways and driveways and paths, you can not only appreciate the beauty but safely walk through your landscape.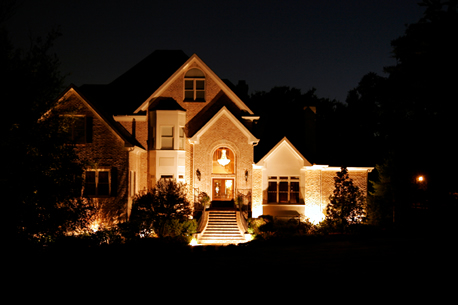 We use state of the art landscape lighting fixtures so your outdoor lighting system will be constantly operational set to go on and off automatically even when you are away from home on vacation.

The visual appeal of lighting your house, condo or apartment-complex landscape really enhances the properties charm. Therefore landscape lighting thoroughly reveals the beauty of your property at night.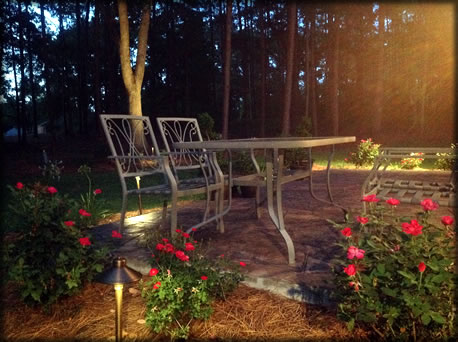 When it comes to outdoor lighting there are numerous varieties of garden or landscape lighting equipment to choose from. The most popular outdoor lighting fixtures are comprised of garden torches, flood lights, hurricane lamps, standard LED lamps, and others. We can install whatever style appeals to your liking and the landscape lights electrical wiring can be ran underground so that the look is as natural as possible. Also, if you so choose, others styles can be operated by stand-alone battery systems. Outdoor Lights that are battery operated can also be equipped with the ability to recharge them. Typically, process is accomplished by a little solar panel which generates its energy during the daytime hours.  If you already know or have a good idea of how your lighting landscape should look like or need us to help you with advice on the best design layout give us a call and we will make it happen for you.
Our goal at Green Fox Landscaping is to provide professional and reasonably priced landscape lighting and maintenance service to both commercial and residential customers. We specialize in all aspects of landscaping from average size yards to the largest most elite estates, properties and commercial accounts.
Green Fox Landscaping is licensed, bonded and insured, plus we have many years of experience. Our customer are always more than satisfied with our Tallahassee Landscaping services and continue to contact us for all of their Landscaping needs.
Green Fox is located in Tallahassee Fl. and is ready to serve all of your landscaping and yard maintenance needs. We are licensed in Tallahassee.
Call us today at 850-210-2047 to get a FREE ESTIMATE or fill out the form below.