Lawn Service Tallahassee
At Green Fox Landscaping we are enthusiastic about our comprehensive landscaping planning & designs. You will be more than satisfied our expert lawn care services which are thoroughly guaranteed. With us you will always get a reasonable and fair estimate for your commercial and residential landscaping and maintenance needs. Therefore whether you need weekly landscaping services or a new construction design or installation we can make it happen for you.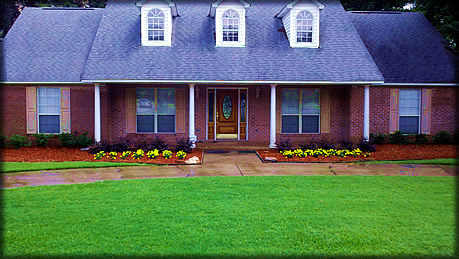 There are many diverse species of lawn grown throughout the southeast and depending on the expected use of the grass you will be able to choose from numerous types depending on your liking. Some lawns come with hearty, coarse grass, especially when used for activities or sports, or there are finer, softer lawn types such as ornamental grasses which may be subject to different climates therefore do better in certain regions like as with the grasses that adapted to oceanic climates that enjoy cooler summers, or tropical temperatures with hotter summers. Another option for your lawn is to mix different types of grass seed to form a vigorous lawn so when one grass type does better in the colder temperatures the other grass seed will hold up better in the warmer or hotter seasons to produce a vibrant lawn all year-round.
Our goal at Green Fox Landscaping is to provide professional and affordable landscape maintenance service to both commercial and residential customers. We specialize in all facets of landscape- maintenance from average size yards to the largest most elite estates, properties and commercial accounts.
Green Fox is located in Tallahassee Fl. and is ready to serve all of your landscaping and yard maintenance needs. We are licensed in Tallahassee.
Call us today at 850-210-2047 to get a FREE ESTIMATE or fill out the form below.